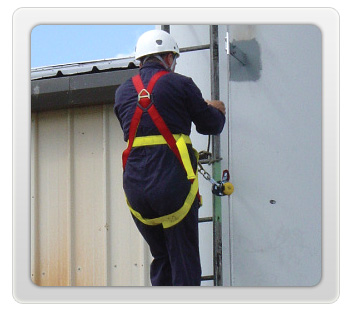 Fall Arrest Systems
As a further commitment to Health and Safety many clients are realising the benefits of having a Redpath Buchanan Fall Arrest System installed.
To aid compliance with the Working At Height 2005 Regulations Redpath Buchanan's proactive approach, before the implementation of the legislation, was to design and manufacture a fall arrest system, specifically for installation to industrial chimneys. This allows safe access for maintenance crews engaged in the maintenance of industrial chimneys.
The Redpath Buchanan Fall Arrest System has been designed following years of experience and consultation with the Steeplejacks who are required to carry out these maintenance tasks. It is also the first (and we believe only) system specifically designed for industrial chimneys, which allows for the expansion & contraction of industrial chimney shells. The system has been manufactured by Latchways UK, the world leaders in fall arrest equipment and height safety equipment and has been certified to BS EN 353-1:2002.
Steeple jacking is an inherently dangerous occupation, which has in the past seen too many deaths and injuries. With the introduction of our fall arrest system we are striving for higher safety standards and less risk to life.
We are firmly committed to the safety of our industry and are working towards maintaining our 100% safety record.
We have noticed in the last couple of years that some industrial chimneys have had both inferior and badly designed fall arrest systems fitted. These systems either do not meet any standard or do not take into account the design and function of chimneys. Please do not hesitate to contact us for our free and impartial advice.