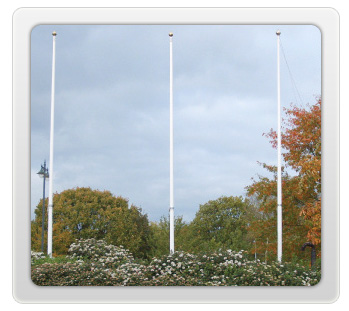 Flagpoles and Masts
Our scope of works
Our Steeplejacks have the ability to climb and rig Roof & Wall mounted, Outrigger and Ground Set flagpoles in all sizes and all varieties – steel, aluminium, bronze, stainless steel, galvanised flagpoles, antennas and masts.
Inspections and Preventative Maintenance
An important service to any structure of this nature is to inspect the overall condition and any supportive base/foundation. As with all similar items many hidden conditions may exist which, for obvious reasons of safety, should not be left unrepaired. It is therefore vital to have an inspection carried out to assess the condition of existing flagpoles/masts. We ensure that a thorough inspection is made to ensure that the flagpole is in safe and full working order. Having inspected the structure we can then advise of the best remedies should any problems exist. We can provide preventative maintenance to ensure the long term viability of the flagpole.
Flagpole Services
Our Steeplejacks can provide a service to maintain internal and external halyard ropes. We can repair snagged ropes to ensure smooth operation when displaying the flags.
Related Services
We are also able to maintain high level ornamentation e.g. balls, eagles, weathervanes, ornaments, gold leaf.