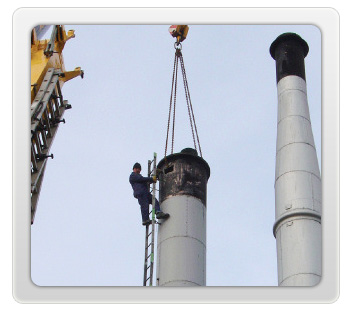 Industrial Chimneys
We offer a comprehensive and competitive service. Our reputation is as one of the UK's leading authorities regarding Industrial Chimneys.
Our Industrial Chimney division provides a prompt, professional and cost effective service for all types of Brick, Concrete, Mild Steel, Stainless Steel and Aluminium Clad Chimneys.
Inspection
Our services covers all types of inspection and surveys, from basic laddered visual inspections through to Ultrasonic non-destructive thickness testing. CCTV is utilised where access is difficult. Thorough checks of internal and external conditions are made, detailed reports of all surveys are submitted for the clients consideration.
Maintenance and Repair
From minor repairs to complete demolition and rebuilds, our team of experienced engineers and steeplejacks are qualified to undertake ALL types of structural repairs.
Design and Estimating
Our team will be pleased to prepare and submit detailed estimates and comprehensive design drawings and specifications.
Installation
Our team of engineers and steeplejacks are able to supply and install new chimneys, ensuring that all necessary works are conducted in a speedy and efficient manner with a minimum of inconvenience.
Associated Services
We also offer a specialist service for Flue Maintenance. Please contact us for more details.