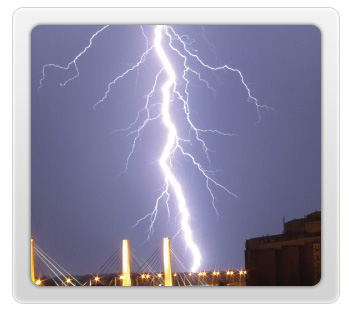 Lightning Protection
Our qualified and experienced staff work closely with architects, project managers and clients to ensure that our clients receive the best system for each and every project. We take into account all the factors that are important to you, whether it be price, time or suitability.
We provide all aspects relating to Lightning Protection, test, inspection, maintenance, upgrades, installations, design.
A complete professional design service is available with full in-house facilities, which includes:
A complete design service
Systems to the current British and European Standard - BS6651:1999 and BS EN 62305:2006
The latest computer aided technology in design and manufacture
Advice and recommendations on the need for and the most appropriate protection for your structure
Fully detailed drawings
Consultation and co-ordination between our design team and clients
Systems designed for your specific structure
Full range of materials compliant with the British and European Standard
Logbooks supplied
Special attention given to providing unobtrusive protection
Systems provided in a variety of colours and materials
Test and maintenance for evidence of corrosion and/or conditions likely to lead to corrosion
Reporting on alterations and additions to the structure which may affect the Lightning Protection system
Our dedication to quality and service has led to our receiving Her Majesty's Royal Warrant for Lightning Protection, a sure sign of our ongoing commitment to quality.
We continue to strive to be the best in the industry. We are fully committed to Health and Safety and to ensuring that all of our employees and clients are confident in our ability to deliver this service.